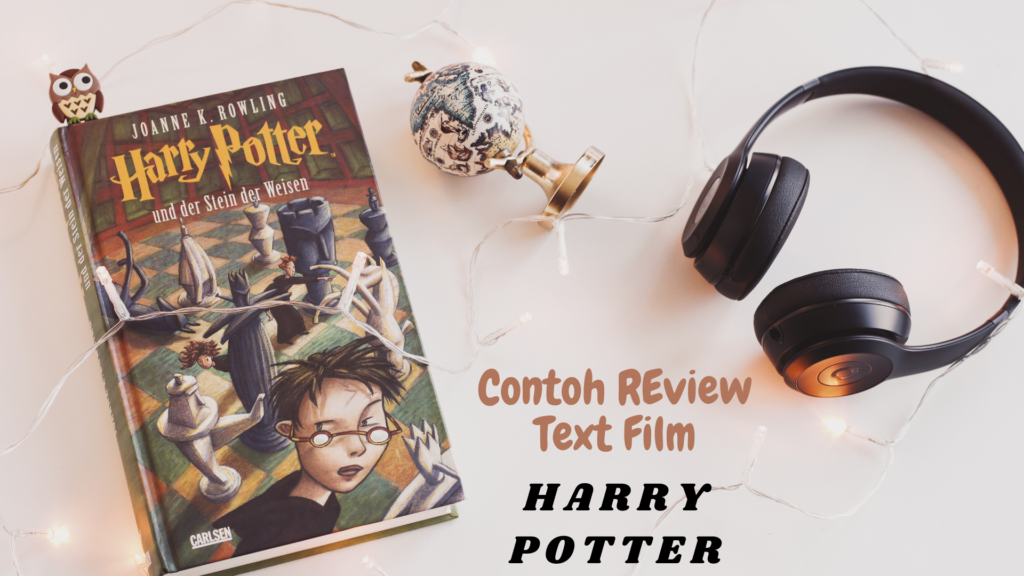 Contoh review text film harry potter disertai generic structure dibawah ini adalah salah satu dari 13 jenis teks yang dipelajari dalam pelajaran bahasa Inggris. Review teks banyak dijumpai baik di media komunikasi cetak maupun elektronik. Perhatikan :
Harry Potter: A Journey Through A History Of Magic
by British Library
Arthur A. Levine
That scene opens Harry Potter: A Journey Through A History Of Magic, a fun, fact-filled book for young readers that serves as preview to the British Library's new exhibition, "Harry Potter: A History of Magic." The exhibit will move to the New York Historical Society next autumn.
Introduction
With activities and illustrations from Rowling, Jim Kay and Olivia Lomenech Gill, the book takes readers on a tour through the Hogwarts curriculum – Potions, Herbology, Charms, Astronomy, Divination, Defence Against the Dark Arts and Care of Magical Creatures – by exploring the subjects in the series, the professors who teach them and some of the historical origins for items and characters.

For instance, Nicholas Flamel – in the books, the creator of the Philosopher's Stone (or Sorcerer's Stone in the US versions of the books) – was a real French scribe who died in 1418 and was believed to have been an alchemist.

Mandrakes, which second-year students help plant in Chamber of Secrets, are real as well, but instead of helping restore people and ghosts petrified by a basilisk, mandrakes were believed to be a medieval herbal remedy for headaches, earaches and insanity, best harvested by unearthing the human-shaped roots by attaching "one end of a cord to the plant and the other to a dog".

Evaluation
Harry Potter fans of all ages will enjoy the breezy nature of A Journey Through a History of Magic. The book sheds light on the folklore Rowling incorporated into her series without getting bogged down in dry narrative – Professor Binns' History of Magic class it is not.

Kay's and Gill's illustrations lend the book vibrancy, helping characters and creatures alike pop out from the pages. Younger readers in particular might enjoy the book's activities, such as making a colour-changing potion out of lemon-lime soda, but it might be best to make sure they've read the series first: A Journey Through a History of Magic does feature some minor spoilers.

For older fans, the book's real magic lies in cataloguing items from Rowling's collection. A Journey Through a History of Magic features pages upon pages of Rowling's illustrations, handwritten drafts, typed manuscripts, flow charts and scenes that appeared differently in the final published stories. One draft of Chamber of Secrets has Harry and Ron Weasley crashing Mr. Weasley's flying Ford Anglia into the lake instead of the Whomping Willow; the names of the Order of the Phoenix and Dumbledore's Army were originally switched; and a manuscript of Sorcerer's Stone has Rubeus Hagrid warning Cornelius Fudge – who is not only a Muggle but the prime minister of England – of the threat of Lord Voldemort.

Interpretation
Much like tapping the right brick to enter Diagon Alley, Harry Potter: A Journey Through a History of Magic brings readers back into Rowling's imaginative world. It's part history, part nostalgia trip. But more importantly, it'll make you want to pick up the books and relive Harry's adventures all over again.
Summary
Adapted from: www.scmp.com
Definisi Review Text
Pengertian review text dalam bahasa inggris adalah merupakan ulasan, tinjauan atau evaluasi terhadap suatu karya atau benda seperti buku, film, novel, alat elektronik, pertunjukan dan lain sebagainya utk mengetahui kualitas, kelebihan serta kekurangan dari karya atau benda tersebut. Perlu diingat bahwa review teks mengulas benda yang benar – benar nyata, bukan imajinatif.
Contoh Review Text Produk
Teks dibawah mengulas tentang sebuah handphone dimulai dari desain, fitur, kapasitas, harga hingga kualitas yang dimiliki handphone tersebut dan diakhiri dengan kesimpulan. Teks seperti ini dapat dengan mudah dijumpai di media komunikasi dan dapat dijadikan acuan sebagai bahan referensi ketika akan membeli suatu produk.
The Samsung Galaxy S20 Plus is the most impressive 'middle child' handset we've ever tested – and most likely the best pound-for-pound S20 phone, period. It's a powerhouse that packs the best perks of its siblings, and strikes the perfect balance between them.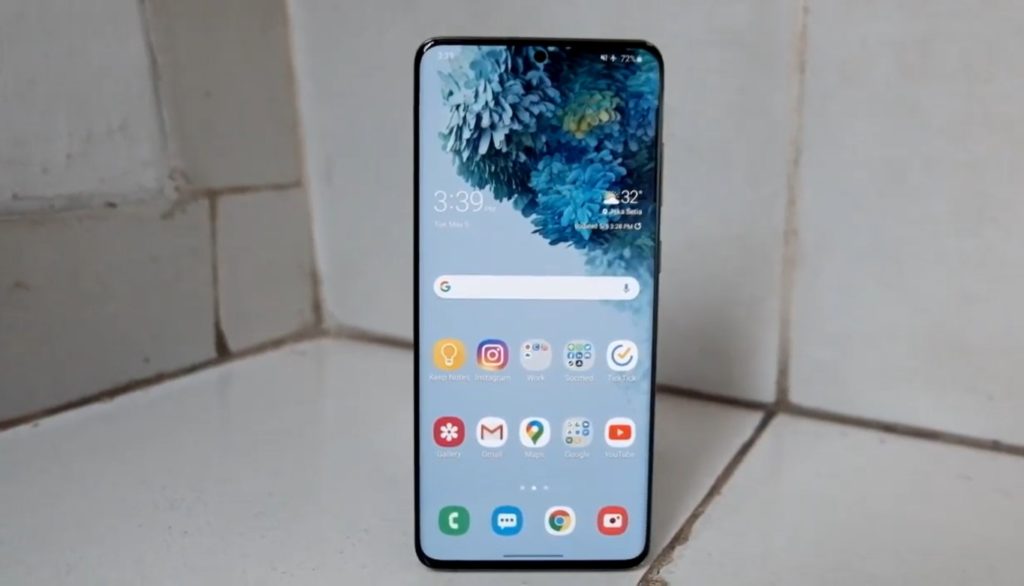 That is, it's got a bigger display and more battery life than the Samsung Galaxy S20, but it's not quite as large and pricey as the Samsung Galaxy S20 Ultra. If you want affordability, or the best of the best, go with one of the other two; however, we predict that for most folks the S20 Plus will hit the sweet spot.
Leaving the ultra-premium Ultra aside, this is also the year's first big 5G phone – and one that operates on both the mmWave and sub-6 frequencies. Crucially, the standard S20 only works on sub-6, which means some US carriers won't even sell that phone. In turn, that means the S20 Plus will be their most affordable S20 model.
Samsung Galaxy S20 Plus price and availability
The Samsung Galaxy S20 Plus is available now in the US and Australia, but those in the UK will have to wait until March 13 for it to be available. There are two variants of the phone; one with 5G, and another with only 4G.
The 5G version of the phone starts at $1,199 / £999 / AU$1,449 with 128GB of storage. That goes up to $1,349 / £1,099 / AU$1,699 for the 512GB model.
The 4G-only variant is available in Australia (it's not sold in the US or UK) for AU$1,299 with 128GB of storage and 8GB of RAM. All the 5G versions of the phone come with 12GB of RAM.
Design
The Samsung Galaxy S20 Plus doesn't look much different to its predecessor, but this is the sleekest device in a long line of flagships – and that isn't a bad look.
The single center-aligned punch-hole for the front-facing camera looks cleaner, and obstructs less of the display, than the lozenge-shaped cutout housing two lenses on the S10 Plus. Less noticeable unless the two phones are side-by-side is that the new Plus model has no top lip or bottom chin – its bezel is evenly sparse.
Display
The Samsung Galaxy S20 Plus' 6.7-inch AMOLED display is sharp and vibrant, with WQHD+ resolution (3200 x 1440). The display is a shade taller than the S10 Plus' QHD+ (3040 x 1440) screen, which is likely due to it having less bezel at the top and bottom. But you likely won't notice a difference given how similar they are – at least until you get to the refresh rate.
Yes, the S20 phones join several other late-2019 and 2020 models in adding the option to refresh the screen more frequently. Most phones operate at 60Hz (meaning the screen refreshes 60 times per second), but on the S20 Plus and its siblings you can opt to up this to 120Hz.
One last point: you might want to turn on facial recognition since the in-screen fingerprint sensor is poor.
Camera
The Samsung Galaxy S20 Plus packs a trio of rear cameras, plus a time-of-flight depth sensor. While the main and ultra-wide lenses haven't changed a great deal from the corresponding lenses on the S10 Plus, Samsung has amped up the telephoto lens to deliver fantastic fidelity far beyond what its predecessor was capable of.
Where the S10 Plus packed a 12MP 2x optical telephoto camera, which extended to a respectable 10x digital zoom, the S20 Plus is rocking a 3x optical lens combined with a 64MP sensor, allowing for an astounding 30x digital zoom.
Performance
Samsung's S-series phones have always boasted top-tier specs, and the S20 Plus is no exception. Its Qualcomm Snapdragon 865 chipset in the US or Exynos 990 in other countries (including the UK and Australia) and 12GB of RAM baseline breeze through games, media binges, and multi-app multitasking.
That's 12GB of RAM for the Galaxy S20 Plus 5G, but if you opt for the 4G version you'll get 8GB of RAM. We've yet to test that version of the device, but we believe 8GB of RAM should be enough to get you through everyday tasks.
Battery life
The Samsung Galaxy S20 Plus packs a 4,500mAh battery, which feels sufficient: in our testing, we found that it held up far beyond a day's worth of typical use, which for us included binging video, scrolling through Twitter, taking photos, and playing a few games.
That's not especially remarkable, but it seems that battery life is more or less keeping pace with innovation: you can eke out a bit more life by reducing the display resolution or dropping the refresh rate down to 60Hz; conversely, you can max-out the screen tech that's on offer, but battery life will suffer accordingly.
The phone includes a standard 25W USB-C Samsung charger in the box, and it also supports Fast Wireless Charging 2.0. And, like the S10 series phones before it, the S20 Plus can share its charge with other devices via Samsung's Wireless PowerShare feature – this is particularly handy for accessories like your Samsung Galaxy Buds Plus, but it works for any device that supports Qi-charging.
Buy it if…
You're willing to pay for nearly the best
We won't beat around the bush: the Samsung Galaxy S20 Ultra is a superior phone, especially the cameras. But if you want to save some money, the S20 Plus has nearly all its best perks at a notably lower cost.
You love taking telephoto pictures
Not all phones are good at taking zoomed-in photos. The S20 Plus has a respectable 3x optical zoom combined with a 64MP sensor that enables some truly neat close-in photography. It may not capture the clearest photos at 30x zoom, but it will collect context at a farther range than almost every phone on the market – except for the S20 Ultra, of course.
You want to be on the cutting edge of 5G
Given the S20 Plus connects to both mmWave and sub-6 5G, it's a great phone for those who want to jump on the cutting edge of 5G – because, chances are, the phone will hook up to the 5G network of your carrier of choice.
Don't buy it if…
You want cheap 5G
Yes, the S20 Plus is likely the most affordable way to get 5G on both mmWave and Sub-6. But if you wanted a more affordable way to get to 5G, pick up a phone that's 5G-capable and matching your carrier's particular network. For instance, if your network runs on mmWave, check if there's a discounted Samsung Galaxy S10 5G; if your network exists on a sub-6 then see if a OnePlus 7 Pro 5G works.
You want an affordable flagship
As much as we enjoyed the S20 Plus, it's certainly expensive – and beyond the means of some consumers. If you want flagship specs at a lower cost, consider the OnePlus 7T Pro or an older phone. They'll serve you just fine.
Social Function pada Contoh Review Text
Dari contoh review text diatas, dapat disimpulkan bahwa fungsi sosial dari review teks adalah sebagai berikut:
Sumber informasi
Dalam review text diatas, dituliskan mengenai detail produk, kelebihan dan kekurangannya serta kesimpulan produk secara keseluruhan. Dari teks tersebut, pembaca mendapatkan informasi mengenai produk tersebut secara detail.
Kritik dan saran
Ulasan produk tidak hanya berisi kelebihan namun juga kekurangan dari suatu produk yang dapat dijadikan bahan pertimbangan bagi masyarakat untuk membeli produk tersebut.
Generic Structure pada Contoh Review Text
Introduction
Pada bagian ini berisi penjelasan tentang produk yang akan diulas. Beberapa hal yang mungkin akan disebut dalam bagian introduction ini diantaranya: nama produk, jenis produk, merek atau asal perusahan dari produk tersebut, serta informasi-informasi general (umum) lainnya dari produk tersebut. Seperti pada contoh review text diatas, pada bagian introduction, penulis memperkenalkan produk yang diulas yaitu Samsung Galaxy S20 plus.
Evaluation
Pada bagian ini, penulis menuliskan detail mengenai produk atau karya yang diulas. Seperti pada contoh review text diatas, penulis menuliskan detail produk yaitu camera, design, battery life, performance dan lain – lain sehingga pembaca mendapatkan gambaran dari ulasan tersebut.
Interpretation
Di bagian interpretation ini penulis akan memberikan penilaian / pendapat nya mengenai produk yang sedang ia review. Berkaitan dengan detail yang ada dalam produk yang terdapat pada review text. Mencakup bagian-bagian, keunikan serta kelebihan produk yang akan diperkenalkan. Tetapi untuk tujuan tertentu, terdapat teks yang hanya berisi hal-hal positive tentang produk yang akan diulas. Tahap interpretation ini juga akan membantu pembaca untuk lebih memahami tentang produk-produk yang diulas.
Summary
Di bagian akhir sebuah teks yang mengulas tentang suatu produk akan dituliskan kesimpulan setelah memaparkan berbagai detail informasi mengenai produk tersebut pada bagian interpretation dan evaluation. Pada bagian ini penulis akan menuliskan apakah karya atau produk yang diulas tersebut bermanfaat untuk pembaca atau membandingkannya dengan produk serupa. Seperti pada contoh review text diatas, penulis menuliskan kesimpulan dengan memberikan berbagai pertimbangan jika pembeli ingin membeli produk tersebut.
Baca Juga: Contoh Descriptive Text
Language Features of Review Text
Ciri – ciri kebahasaan pada review text adalah sebagai berikut:
Penggunaan adjectives (kata sifat)
Dalam menuliskan ulasan tentang suatu benda atau pun karya, dibutuhkan kata sifat yang menggambarkan benda atau karya tersebut sehingga pembaca dapat memahami dan dapat membayangkan benda yang diulas. Contoh kata sifat yang digunakan dalam teks review diatas adalah:
The Samsung Galaxy S20 Plus is the most impressive 'middle child' handset we've ever tested.
The Samsung Galaxy S20 Plus' 6.7-inch AMOLED display is sharp and
This is the sleekest device in a long line of flagships.
Berisi perumpamaan atau metafora
Analogi atau perumpamaan biasanya digunakan untuk menggambarkan kelebihan dari suatu produk atau karya. Contoh perumpamaan dari teks diatas adalah:
If you want flagship specs at a lower cost
We won't beat around the bush
Connector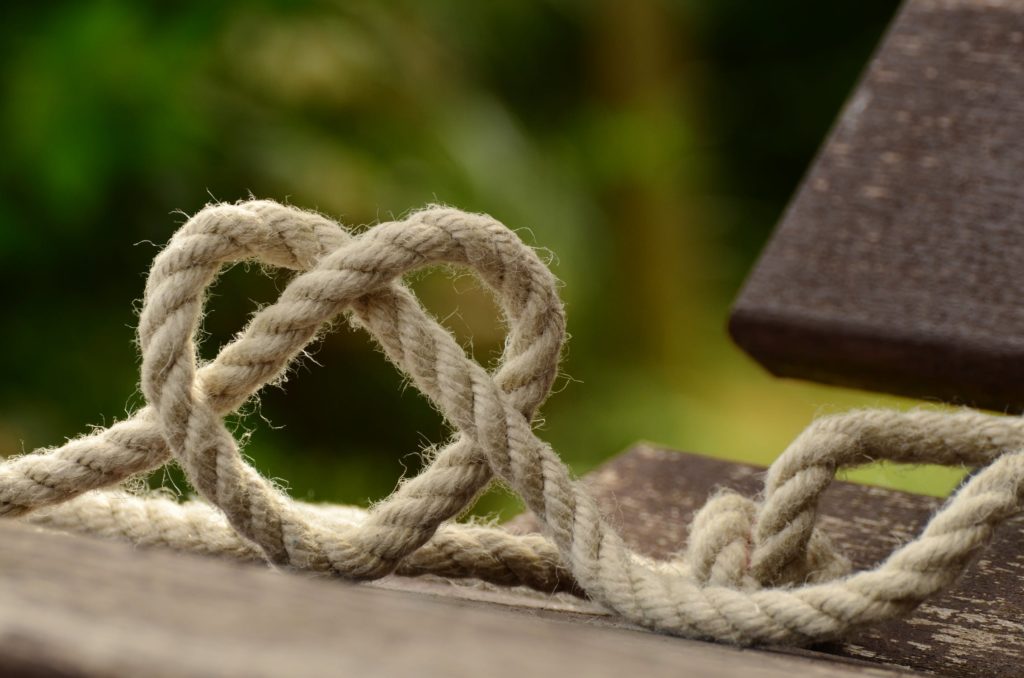 Terdapat kata – kata penghubung antar kalimat, terutama saat menjelaskan deskripsi produk. Contohnya:
Simple present tense
Verbal sentence mengandung kata kerja yang melibatkan kegiatan atau proses
| | | |
| --- | --- | --- |
| + | S + Verb 1 (s,es,ies) | The phone includes standard charger |
| – | S + don't/doesn't + Verb 1 | The phone doesn't include standard charger |
Penjelasan:
The phone includes standard charger
Subject       Verb 1
If the subject is singular, the verb must be added s,es,ies. As the sentence above, the subject is the phone which is singular subject, followed by the verb include, so the verb include must be added 's'.
Jika subjek kalimat tunggal, maka kata kerja yang digunakan harus ditambahkan s,es,ies. Seperti pada contoh diatas, subjek kalimat tersebut adalah the phone yang merupakan benda tunggal, maka kata kerja yang digunakan yaitu include, harus ditambahkan 's'.
I
Do

Don't

You
We
They
He
Does

Doesn't

She
It
Nominal sentence tidak mengandung kata kerja atau action verbs yang melibatkan kegiatan atau proses. Kalimat hanya berupa penjabaran atau deskripsi.
| | | |
| --- | --- | --- |
| + | S + is/am/are + complement | The display is sharp and vibrant |
| – | S + isn't/am not/aren't + complement | The display isn't sharp and vibrant |
I
Am / am not
He
Is/

Isn't

She
It
You
Are

Aren't

We
They
Contoh Soal Review Text Novel
Write the generic structure of the text below
Bridge to Terabithia
By: Katherine Paterson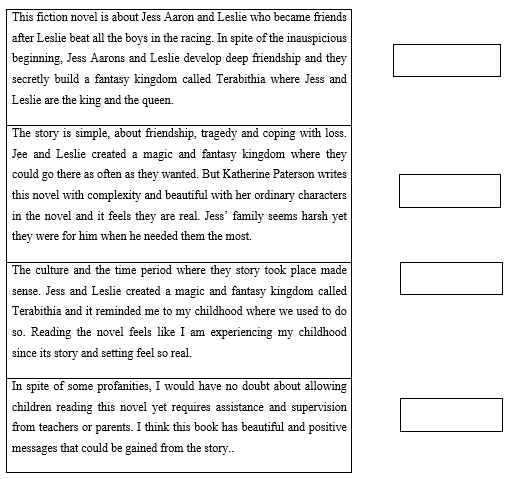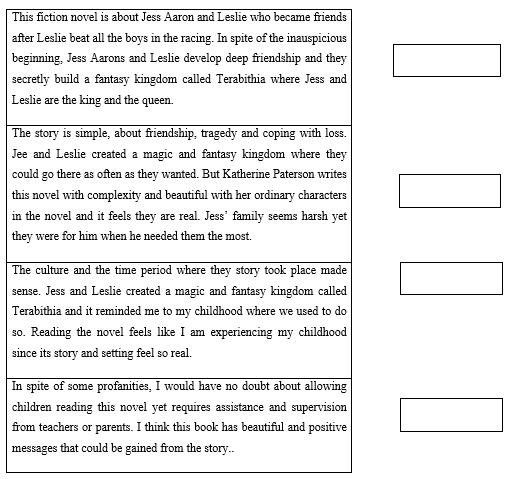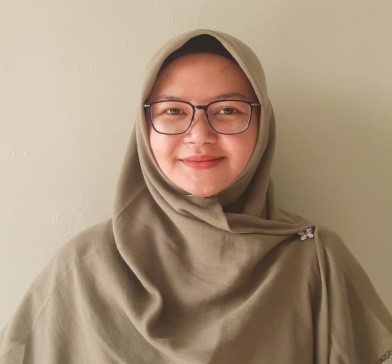 An English teacher with 9 years experience in teaching English. I graduated from Pakuan University majoring English Education Study Program.